How to utilize leftovers from sous-vide cooking
Sometimes when you buy a nice cut of meat, your eyes are bigger than your and your beloved's stomach. So what to do with the leftovers?
In Tyrolia (Austria) they make a "Gröstl", in Solothurn (Switzerland) they make a "Gnusch", in the Seftigenamt (a region in the Swiss canton Berne) they make a "Gmüder", and we (Eliane and Peter Gruber, user:PedroG) make a varying concoct using ideas from all of the three. We call it "Gröstl", but it is not necessarily a typical Tyrolean Gröstl, and it is different each time, and we usually do not top it with a fried egg as they do in Austria.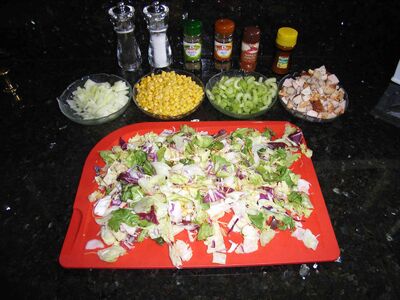 What are the ingredients for our Gröstl?
All your meat leftovers
Onion (compulsory)
Any hard vegetable (we prefer celery stalks, or zucchini)
Any salad (iceberg lettuce or endive/chicory or any other salad leaves, may contain carrot julienne)
Fried potatoes, or alternatively sweetcorn kernels
Sherry or wine or bouillon or the gravy you preserved from your last LTLT.cooked meat for simmering (I usually prefer Sherry)
Eventually some cream (or crème fraîche)
Salt, pepper, parsley, caraway seeds (typical for Tyrolean Gröstl), paprika, condiment (in Switzerland we use "Aromat" by Knorr, which contains sodium chloride, sodium glutamate, lactose, starch, yeast extract, vegetable fats, onions, spices, E552)'
vegetable oil (I prefer olive oil)
Mise en place
cut your meat in small cubes or slices
cut the onion(s) not too fine (place the first cut below your tongue to avoid tearing during cutting)
cut the vegetables about 3-4 mm thick
cut the salads to pieces smaller than 4 cm, distribute on the cutting board and season deliberately
cut the potatoes to 1 cm cubes
place 3 heavy skillets with ample oil on the stove
Cooking
in skillet 1, stir-fry the onions, add the hard vegetables still stir-frying, add salad, add sufficient liquid (Sherry or wine or bouillon or gravy) for simmering under a cover until soft. If desired, reduce heat and add some cream at the end.
in skillet 2, stir-fry the potatoes until soft (in case of sweetcorn kernels, add to skillet 1 after stir-frying and use skillet 2 for skillet 3)
in skillet 3, as soon as the vegetables and the potatoes are soft, sear the meat in just smoking oil for 30-60 seconds, then add to skillet 1
Serving
You may mix the potatoes with the vegetables and meat to make a rather typical Gröstl, or serve the fried potatoes separately; we prefer the latter, as the potatoes stay more crunchy.
Do not forget to serve a glass of good dry red wine!
--PedroG 20:22, 1 July 2009 (UTC)